In the space of a single month died the directors Edward Yang, Ingmar Bergman, and Michelangelo Antonioni.
一個月的時間,死了三位導演:楊德昌、Ingmar Bergman、Michelangelo Antonioni。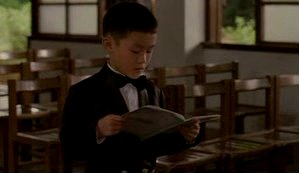 I take comfort in Yang Yang's speech at the end of Yi Yi:
我以電影「一一」最後洋洋說的話為安慰:
婆婆,對不起,不是我不喜歡跟你講話,只是我覺得,我能跟你講的你一定老早就知道了,不然你就不會每次都叫我聽話。就像他們都說你走了,你也沒有告訴我,你去了哪裡。所以,我覺得,那一定是我們都知道的地方。

婆婆,我不知道的事情太多了。所以,你知道我以後想做什麼嗎?我要去告訴別人他們不知道的事情,給別人看他們看不到的東西。我想,這樣一定天天都很好玩。說不定,有一天我會發現你到底去了哪裡。到時候,我可不可以跟大家講,叫大家一起過來看您呢?

婆婆,我好想你。尤其是我看到那個還沒有名字的小表弟,就會想起你常跟我說,你老了。我很想跟他說,我覺得,我也老了。

Grandma, I'm sorry. I do like to talk to you, but you must be way ahead of all I have to say, or you wouldn't always tell me to heed. Like, they all say you left, but you never told me where to, so I guess it must be a place we all know.

Grandma, there is so much I don't know, so guess what I want to do when I grow up. I want to tell people things they don't know, show people things they can't see. That must be fun every day. One day I might find out where you went. When I do, may I tell people to come with and visit you?

Grandma, I miss you so much. Especially when I see my unnamed cousin, I remember how you often say to me that you're old. I want to say to him too, I feel I'm old too.